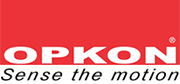 OPKON Optic Electronic Ltd. established in 1993 in İstanbul / Turkey by Electronic Engineer Mustafa Kenan Özeren.
Company philosphy is, developing, designing and manufacturing electronic sensors and devices, with Euorpean quailty and distribute all over the world.
OPKON Ltd. has all R&D, and manufacturing facilities in İstanbul, which has 1400 sq meter production area, 55 technicians and engineers with many years experiance.
Company is certified with ISO 9001-2008.